Virgil Abloh is fashions hottest designer. We meet the man whose orange brick has people queuing round the block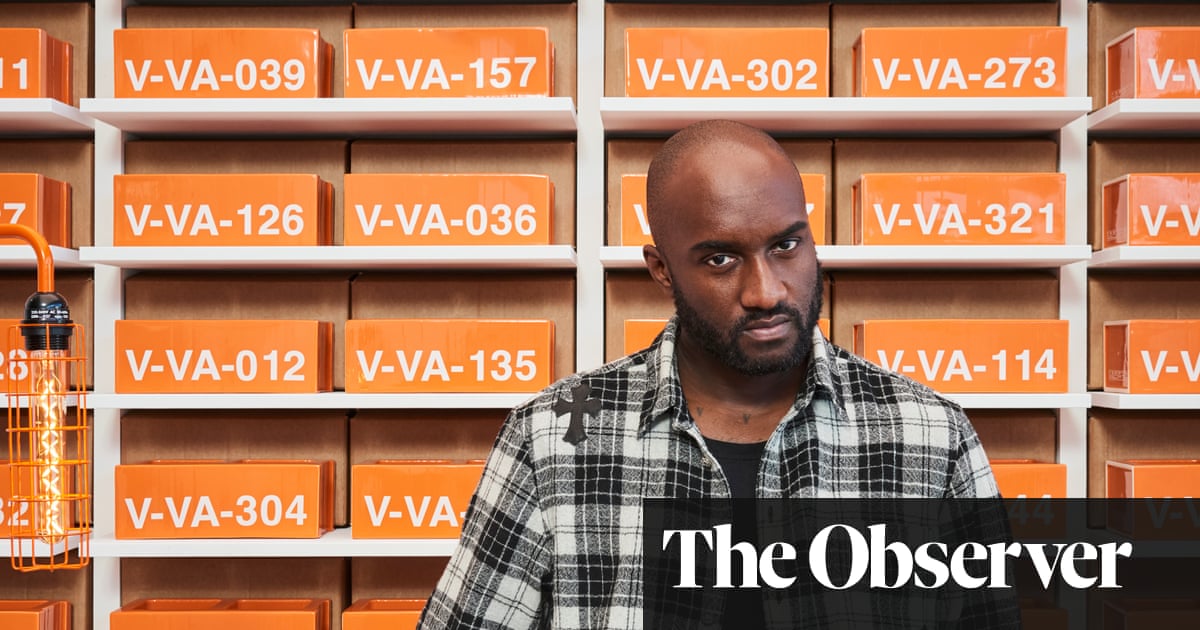 On an early summers evening on the outskirts of Basel a city almost certainly in Switzerland, but sometimes in France and occasionally Germany hundreds of well-heeled men and women stand in line, giddily, champagne flutes in hand, waiting to buy a 140 brick. It is, naturally, no ordinary brick. Its flag-down-a-passing-aircraft orange, and prominently branded in an edition of just 999. But, crucially, the brick or ceramic block as its parents have christened it has been designed by Virgil Abloh, a 38-year-old from Chicago, in conjunction with the timeless Swiss furniture company Vitra. Right now, Abloh is an alchemist: anything he touches in the worlds of fashion and design turns to gold (or often orange). The people jostling in this queue know that they could buy a brick and own a cherished piece of design history or walk out and resell it immediately for at least double what they paid.
And yet, it really does look like a brick. Abloh, whose day job is artistic director of menswear at Louis Vuitton, makes no wild claims for its utility. It is sort of reminiscent of a cinder block, which is obviously a building unit to build structures such as were in, he says, at the launch at Vitras headquarters. But we decided to make that a ceramic household accessory. It gets adapted to your living space as an object itself, or it can be a paperweight, or it can hold objects within it.
The brick is, in many ways, a perfect leitmotif for Ablohs game-changing and divisive career to date. For those who are unconvinced by him, his main talents are in orchestrating hype and self-promotion. One of his often-quoted maxims is that you only need to change a design by 3% to make it fresh and original, and he made his name originally by applying this logic to graphic T-shirts, hoodies and sneakers. In GQ, the author Michael Chabon described Abloh as one-third hip-hop, one-third hustle, one-third [Malcolm] McLarenesque inside joke.
For others, though and its an army that is beginning to drown out the doubters Abloh is nothing less than a new Marcel Duchamp, the Andy Warhol for our times. His work is reliably playful, ironic and totally unreverential: one of his signatures is to add a lurid zip-tie to Nike sneakers. In March, Justin Bieber was stopped by police, who thought he still had a store security tag on his Air Max 90s. Virgil, my God, bro, Bieber posted on Instagram. You freaking youre killing me, man! Other trademarks are horizontal stripes, quotation marks, brash capital letters in Helvetica type. Youll see them everywhere now: Kendall Jenner, Drake, Beyonc, Serena Williams.
Abloh is also a pioneer, a relentless polymath. In March 2018, he became Louis Vuittons first African-American artistic director, and a rare black designer in the fashion establishment. His streetwear label Off-White, founded in 2012, is neck and neck with Gucci as the hottest brand in the world, according to the influential Lyst Index. Hes lectured at Harvard and the Architectural Association in London, and had a series of exhibitions at the Gagosian galleries with cult artist Takashi Murakami. The New Yorker recently called Abloh menswears biggest star; last year, Time named him one of the 100 most influential people in the world.
Original Article : HERE ; The Ultimate Survival Food: The Lost Ways